A new Power Unleashed tab has arrived in Fortnite, full of new missions and rewards. This tab is available all the way until August 30, 2022, at 1 a.m. PT / 4 a.m. ET.
The Power Unleashed tab tracks your power level as you complete new limited Dragon Ball missions in Battle Royale and Dragon Ball Adventure Island. Test your skills in strength, agility, focus and more in seven sets of themed missions that reward you with a Dragon Ball at the end of each set.
As you raise your power level, you unlock rewards such as Dragon Radar Back Bling, Emotes, Sprays and Battle Pass Levels. When you complete the training and collect all seven Dragon Balls, you will score the Shenron Glider.
Go even further beyond
Battle with counter boards
The strongest warriors are always testing themselves – introducing Versus Boards.
Versus Boards pits you and a rival player against each other in a battle to be the island's strongest! Both players must enter a match by interacting with a board on the island, and once your opponent is selected, you will be revealed on each other's map. You then have only five minutes to defeat your opponent and claim victory.
Versus Boards have temporarily taken the place of Bounty Boards and can be found where Bounty Boards used to be.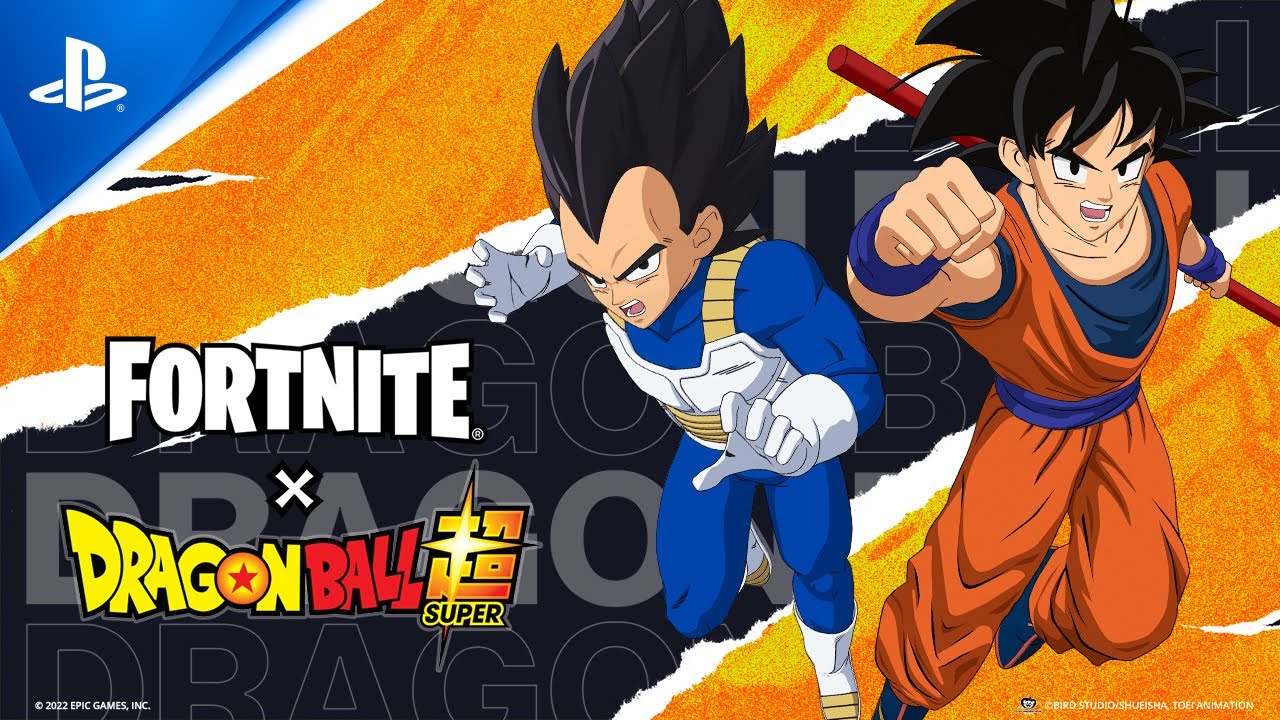 Use the powers of Goku
Fortnite x Dragon Ball introduces the Kamehameha and Nimbus Cloud (Kintoun) items to Battle Royale.
Drop from the sky in deliveries (invented by Capsule Corp) throughout each battle, pick up your Kamehameha and fire a devastating energy beam at anyone who crosses your path, or call Nimbus Cloud (Kintoun) to fly around the island.
Players can also visit Bulma at the iconic Kame House, on a very small island off the coast of the mainland. Visit Bulma and give her some bars as another way to get these powerful items.
Dragon Ball Super Episode Festival and Adventure Island
From August 16, 2022, you can watch a selection of episodes from the Dragon Ball Super series in the Dragon Ball Super Episode Festival in Discover.
Want even more Dragon Ball fun? From August 19, 2022, you can visit Dragon Ball Adventure Island to explore areas inspired by iconic locations in Dragon Ball Super. Both of these experiences will be available until September 17, 2022.
Both of the above experiences can be found in Discover. If you want to select a specific episode from the Dragon Ball Super Episode Festival, you can enter one of the following island codes:
Dragon Ball Super Episode 09: Thanks for waiting, Lord Beerus! A Super Saiyan God is finally born! – 0795-3388-3496
Dragon Ball Super Episode 10: Show us, Goku! The Power of a Super Saiyan God! – 0673-6464-4504
Dragon Ball Super Episode 11: Let us proceed, Lord Beerus! Battle for the Gods! – 7314-1087-7406
Dragon Ball Super Episode 13: Goku, Surpass Super Saiyan God! – 2217-0697-8017
Dragon Ball Super Episode 81: Bergamo the Crusher vs. Goku! Whose strength reaches the Wild Blue Yonder? – 3318-8565-563
Dragon Ball Super Episode 98: Ah, the uncertainty! A universe despairs! – 7179-9939-7063.
Tournament of Power
Harness your power and unleash it in the Tournament of Power taking place in all regions on August 18, 2022. Compete in this Battle Royale Duos tournament to potentially earn the Angry Vegeta Emoticon, Goku's Kanji Banner Icon, and Beerus Eating Spray.
Dragon Ball Merchandise Store
Outfits available now in the item shop:
Son Goku
A Saiyan raised on Earth who has protected it from many enemies. His Saiyan name is Kakarot. He loves to fight, and the stronger the opponent, the more excited he gets! After the Powernament of Power, he discovers that there are still many strong warriors in the universe he has yet to meet, and he trains to pursue a higher level.
(Comes with the Super Saiyan, Super Saiyan Blue, and Ultra Instinct alt styles, as well as the built-in Goku's Charging Up Emote. Universal Charging Up Emote sold separately.)
Vegeta
A proud Saiyan prince who shares an intense rivalry with Goku. He was once a cruel and evil warrior, but after fighting with Goku, he gained a good heart. Vegeta trains to beat Goku, but feels threatened by Frieza after he is revived after the Tournament of Power.
(Comes with Super Saiyan, Super Saiyan Blue and Super Saiyan Blue Evolved alt Styles, as well as the built-in Vegeta's Charging Up Emote. Universal Charging Up Emote sold separately.)
Bulma
The first friend that Goku meets. She searches for the Dragon Balls with Goku and his friends and often bails them out of trouble. She is the well-behaved daughter of Capsule Corporation, the inventor of the Dragon Radar, and is a genius with machines.
(Comes with Lab Coat alt Style.)
Beerus
A god of destruction tasked with maintaining the balance of the universe. If he gets in a bad mood, he will destroy any nearby planets or life forms. He meets Goku when he goes to Earth to fight the Super Saiyan God, but is then pulled in many directions by Goku's actions. He likes to eat tasty things and sleep.
Back Blings
Nyoibo: A mysterious staff given to Goku by Grandpa Gohan.
The seer fish: Beerus' forgetful prophet fish.
Kamesennin's shell: Worn by Kamesennin himself.
Pickaxes, Gliders and Emotes
Nyoibo hoe: A mystical staff given to Goku by Grandpa Gohan.
Kamesennin's Staff Pickaxe: Used by Kamesennin himself.
Nimbus Cloud (Kintoun) Glider: A mysterious nimbus cloud given to Goku by Kamesennin.
Space Pod Glider: Mostly used to invade planets.
Charging Emote: Show them what you're made of.
Fusion Emote: Do you remember the dance steps?
Players will also have the ability to pick up these items in bundles:
The Goku & Beerus Pack includes the Goku Outfit, Goku's Pickaxe, Goku's Back Bling, Goku's Transformation Emote, Beerus Outfit and Beerus Back Bling.
The Vegeta & Bulma Pack includes Vegeta Outfit, Vegeta's Transformation Emote and Bulma Outfit.
The Dragon Ball Gear Bundle includes Kintoun Glider, Space Pod Glider, Fusion Emote, Kamesennin's Staff Pickaxe and Kamesennin's Shell Back Bling.